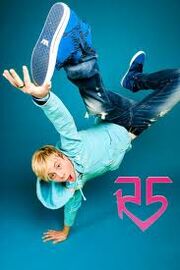 Riker Anthony Lynch,born November 8, 1991, is an American singer-songwriter, musician, actor, dancer, and is the singer and bassist of the band R5 with his brothers Ross Lynch and Rocky Lynch, sister Rydel Lynch, and best friend Ellington Ratliff. He is best known for his role on Glee, where he plays Jeff Sterling, a Warbler at Dalton Academy.
Riker was born in Littleton, Colorado, and he is the oldest of his five siblings. At the age of three, Riker started learning to act and sing at Colorado Productions and later began taking dance lessons. He was in singing groups that performed all around Denver, and in the summer he would act in children's versions of plays such as Peter Pan, Aladdin, Annie Get Your Gun, A Chorus Line, and Grease. In 2007, Riker moved with his family to California to pursue a career as a young entertainer.  After moving to Los Angeles, one of Riker's brothers, Rocky Lynch, began showing interest in playing the guitar; he taught himself how to play and got into bands like 'Fall Out Boy' and 'Green Day'. Rocky later taught their younger brother Ross to play guitar and taught Riker to play the bass. Rydel, who had previously learned how to play the piano, took up the instrument again, and in October 2009 the family met Ellington Ratliff at a dance studio. Learning that Ratliff could play drums they added the final member and using Ratliff's last name they completed R5.
Riker plays bass and is one of the lead vocalists in the band R5. 
R5 released an EP titled "Ready Set Rock" on March 9, 2010 consisting of songs written primarily by Riker and his brother Rocky along with their sister Rydel, band coach E-Vega, and vocal coach / songwriter, Mauli B. The EP was also produced by E-Vega.